Roker Pier and Lighthouse
Sunderland's landmark Roker Pier and lighthouse are Grade II listed and when opened in 1903 the structure was hailed as a true 'triumph of engineering' no mean feat in an era which saw the construction of Brunel's Clifton Suspension Bridge and Paxton's Crystal Palace.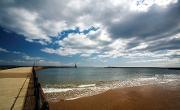 Address:
Roker Pier, Sunderland , SR6 9NB, Tyne & Wear , United Kingdom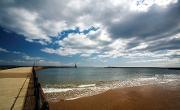 The original lantern was gas powered, emitting a 45,000 candlepower reflected beam reputedly visible for over 15 miles out to sea. Once complete, the pier extended 2000ft (609.60m) out to sea.
The pier was the brainchild of Henry Hay Wake, chief engineer of the River Wear Commissioners. It was built using granite faced blocks, each weighing up to 45 tons, constructed on shore in an area known to this day as the blockyard.
Concrete was poured into huge wooden moulds, which were then manoeuvred into place by a vast crane called the Goliath. This was driven by gas engines, supplied by gas pipes running along a specially designed tunnel which ran the entire length of the pier.
The tunnel was later used by the keeper to reach the lighthouse in bad weather, when the waves would have been crashing over the deck and is used to this day to rescue people who become trapped on the pier in bad weather.
Pier tours are now underway and will operate three times a day, cost £6 for adults and £4 for children.
Proceeds from the tours will go to Roker Heritage Group and will be ploughed back into community activities and outreach work.
Please note that all tours are weather dependent.
Opening hours
To view Roker Pier and Lighthouse opening hours, please click here.