St Peter's Church, Monkwearmouth
The Anglo-Saxon church of St Peter's was built in 674AD by local nobleman Benedict Biscop.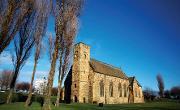 Address:
St. Peter's Way, Sunderland, SR6 0DY, Tyne & Wear, United Kingdom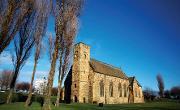 It is one of the UK's earliest stone churches and parts of the original church are still standing, including the West Wall, porch and stone carvings. St Peter's was also once home to Venerable Bede, one of our greatest ever scholars. Set on the riverside, St Peter's features a craft shop and interactive displays, as well as a coffee shop serving homemade delicacies a working church allotment garden and bee hives.
Visitors can now better appreciate the size of the original monastery thanks to new landscaping that replicates the original Benedict Biscop era footprint. Opened in June 2015 the; footprint features stone and soft landscaping to highlight the internal spaces and exterior walls of the monastery, without disturbing the buried archaeological remains.
New engineered glass windows were installed in May 2016 to celebrate the works of Bede at St Peter's. They feature written quotes from the bible and visual representations of the changing seasons.
Opening hours
To view St Peter's Church opening hours, please click here.