Cycling
Cycle the scenery, cycle the city, cycle Sunderland. We've certainly caught the cycling bug here, and our well maintained cycle paths make it easy for you to get on your bike and enjoy the great outdoors. Sunderland is also home to the BIG Bike Ride which sees hundreds of cyclists from all over the North East cycle the length and breadth of Sunderland.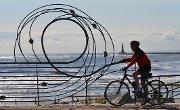 Sunderland is well served with well maintained cycle paths, which take you from the outer reaches of Sunderland into the heart of the city and along it's magnificent coastline. Taking you through woodland, riverside and coast to a vibrant city centre and joining up so many of Sunderland's attractions. Cycling Sunderland is one of the best and easiest ways to get around.
Roker beach is home to the end of the Coast to Coast or Sea to Sea (C2C) route, that begins in Whitehaven in Cumbria and ends at Roker. However don't forget that you have not officially ended your ride until you dip your front wheel in the North Sea at the 'C' sculpture at Roker beach.
Find out more about the C2C route.
Sunderland is also a destination on other long distance routes including the Walney to Wear (W2W) route and the Two Rivers Cycleway between Sunderland to South Shields which passes Souter Lighthouse.

Ride the cycle paths along the River Wear for 15 miles from Roker beach to Beamish and see many of Sunderland's attractions and landmarks, including St. Peter's Church, National Glass Centre, Stadium of Light and Washington Wetland Centre.
Our many parks and greenspaces have wide traffic-free cycle paths, including Hetton Lyons Country Park and Herrington Country Park, where you can take a leisurely ride past the boating lake and hop off your bike to feed the swans or take the family for a safe and accessible cycle ride around Barnes Park and enjoy the play areas or take a pit stop at the cafe.
A number of cycle hubs have popped up in Sunderland allowing people to hire bikes at reasonable rates and provide support and advice. One of the cycle hubs is based at Roker just a stone's throw from the end of the C2C. The Roker Cycle Hub is open most weekends and most days during summer.

Sunderland Young People's Bike Project (SYPBP) is also a community-based cycle project based in Thompson Park, Fulwell, working throughout the city of Sunderland delivering educational and leisure-based cycling activities and services in Sunderland. In addition to this, Sunderland Community Action Group, formed in 2015 in response to local demand for youth and community services in Sunderland, offer offers free cycle maintenance, bespoke servicing, cycle hire, ride cycle support, group rides as-well as fishing sessions for groups through St Peter's Cycle and Sports club.
If you're already a keen cylist, you can earn rewards for your active and sustainable travel. BetterPoints Sunderland is a rewards programme for ditching the car and making more active and sustainable travel choices. Residents and commuters to Sunderland can download the free BetterPoints app, track sustainable and active journeys to earn BetterPoints, and BetterTickets to win prizes. BetterPoints can then be redeemed for a whole host of retail vouchers or donated to charities. Click here to find out more.
Travel sustainably around our city with the option of parking your bike at a Metro or bus station or ferry landing. You'll find information about the number, type and location of cycle racks, pods or lockers. Simply leave your bike securely locked at one of the cycle racks, pods or lockers and continue with your journey by Metro, bus or ferry. Click here for more information on the Nexus website.
There is also free cycle parking via ParkThatBike for Businesses and organisations based anywhere in Sunderland, Washington, Houghton or Hetton can apply for free cycle racks and storage to be installed within their premises, apply online now.
For further information on cycling and all types of activity in Sunderland including walking and hiking visit here and for further information on cycling routes visit here.