Adventure Sunderland
Surf, kayak, Expeditions and more at this £1million watersports centre on Roker Beach.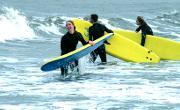 Address:
Sunderland Marina, Sunderland , SR6 0PW, Tyne & Wear , United Kingdom
Feel the exhilaration of catching your first wave, enjoy the thrills and spills of a new sport, feel the wind in your hair and the spray on your face and most importantly, have fun. With family or friends, as a one-off adventure or the start of something new, make the most of our beautiful coastline and expert tuition at Adventure Sunderland.
Activities on offer include:
Kayaking
Canoeing
Pier Jumping
Surfing
Body Boarding
Stand-Up paddle-boarding
Giant Paddleboard
Bell Boating
Powerboating
VHF Radio courses
Gorge Scrambling
Archery
Indoor Climbing
Raft Building
Coasteering
Abseiling
Fencing
Orienteering
Crate Stack
Team Building Activities
Sit-On-Top kayaking
Sea kayaking
White Water kayaking
White Water canoeing
Outdoor Climbing
River trips
Expeditions