Sunderland Empire Theatre
Sunderland Empire Theatre brings big West End productions, drama, comedy and musicals into the heart of the city.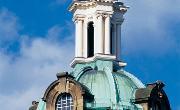 Address:
4-5 High Street West, Sunderland, SR1 3EX, Tyne & Wear , United Kingdom
About Sunderland Empire Theatre
Sunderland Empire Theatre is the biggest theatre in the North East and guarantees an exciting programme of events all year round.
Staging season after season of dazzling entertainment, the Sunderland Empire showcases everything from West End musicals and classic ballet, to spectacular dance productions, cutting-edge comedy and drama.
There's also a selection of music concerts and family shows including the annual star-studded pantomime which is a staple for the Christmas and holiday season within the North East.
For more information on events at Sunderland Empire, visit the ATG Tickets website or check out our listings for what's on in Sunderland
Sunderland Empire Theatre is housed inside a Grade II listed Edwardian building which was built in 1907 and boasts a colourful history. It has a maximum capacity of 1860 seats due to a refurbishment and offers selective backstage tours, as well as space for conferences and events.
It is where famous character actor and 'Carry On' star Sid James famously and tragically died on stage in front of a packed house. Iconic acts such as Charlie Chaplin, The Beatles and Tommy Steele have also performed at Sunderland's Empire Theatre.
Perhaps most notably, Sunderland Empire continues to bring West End productions to the North East, and has staged the likes of Disney's 'The Lion King', 'War Horse' and 'Wicked' to name a few.
Tickets can be purchased via ATG Tickets.
How To Get There
Sunderland Empire is centrally located in Sunderland City Centre, and is within a short walking distance of car parking, Metro and bus services.
The nearest Metro is Park Lane station, and is approximately a 4-minute walk away.
You will also find parking at the Bridges multi-storey car park, and St. Mary's car park. Parking fees do vary depending on day and time, and availability can be affected by busier periods.
To view Sunderland Empire Theatre's latest What's On guide visit Whats On Guide it's filled with lots of shows to suit all tastes. So why not take a peek and decide on your next theatre trip!